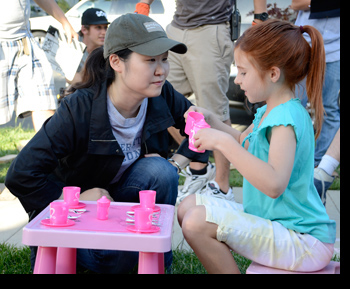 Born in Korea, Christine Shin moved to the United States by herself at the age of 16 to follow her dream as a filmmaker. She received her M.F.A. degree in Film & Television Production from USC School of Cinematic Arts.

While studying at USC, Christine directed a commercial spot, MOVIE DATE, as one of the ten national finalists for Coca Cola Refreshing Filmmaker's Award Contest. Her next film, JOURNEY, was screened at multiple festivals including Sedona International Film Festival and Hollywood DV Festival.

Her award-winning thesis film, JANIE, was honored during its post-production with the Caucus Foundation Grant and Charles & Lucille King Family Foundation Grant. JANIE had a very successful run at nearly 50 festivals worldwide including France, Monaco, Israel, Argentina, and Korea. It also received numerous awards such as Cine Golden Eagle Award and Dances With Films Audience Award. JANIE had its TV premiere on PBS as a part of Fine Cut Series and has been distributed online through Little Film Big Heart.

While finding critical and popular acclaim at international film festivals, Christine is also recognized by a local filmmaking community for her various accomplishments. She was one of the Honorees for Project: Involve by Film Independent and selected to participate in the USC First Team as a director.

With her feature script, MY FAKE HUSBAND, Christine received Fellowship from Filmmakers Development Lab by KOFIC (Korean Film Council). The same script was chosen as the runner-up for the New Writers Awards by CAPE (Coalition of Asian Pacifics in Entertainment) and Fox. Also, KOCCA (Korea Creative Content Agency) invited Christine to be part of the prestigious Korean American Hollywood Directory as one of the distinguished filmmakers.

Her latest film, ENCOUNTER, had its premiere at Worldfest Houston and garnered Platinum Remi Award. After the well-received screenings at Los Angeles Asian Pacific Film Festival and LA Shorts Fest, it has been purchased for distribution by Shorts International and is now available on iTunes.

Christine lives in Los Angeles with her dog, Izzy.